| | | |
| --- | --- | --- |
| | | |

BGP INNOVATOR LAUNCHING
---
BGP Innovator was successfully launched in Dalian, China on 22nd April 2022. She is believed to be the first dedicated hybrid node handling/multi-source vessel focused on shallow water OBN seismic operations.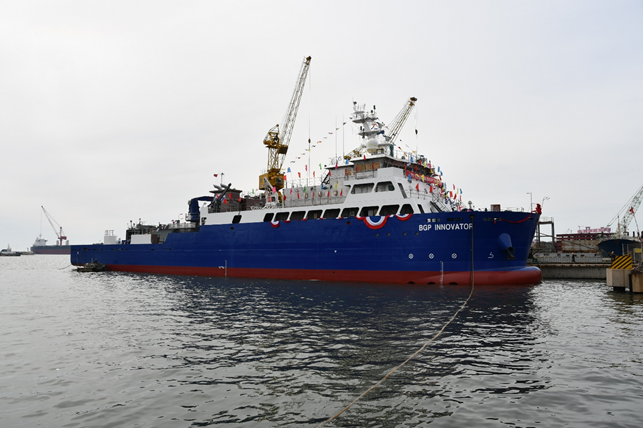 BGP Innovator has equipped 4 Wartsila generators providing stable and reliable electric propulsion benefitting for low carbon emission which conforms to the green concept of the Class of BV. And also she will enable safe and accurate navigation in congested oil fields with ZF Thrusters and MT Dynamic Positioning system (DP1).

With an overall length of 88.2 meters and a width of 16.9 meters she can crew maximum 60 personnel while still having the nimbleness to pass through narrow waterways. Also of note is her shallow draught of 2.5m. This will enable her to perform efficient seismic operations in a wider range of shallow water depths as is often encountered in Transition Zone surveys.

After sea trials in the end of June 2022, she will head to the Middle East to conduct her maiden acquisition project.

For further information and insight into the abilities and technical specification of this ground-breaking vessel we invite to inquire at (email: tenders@bgpoffshore.com).
---
About BGP
BGP, a worldwide leading geophysical solution provider, offers a comprehensive range of leading-edge geophysical products and quality services to the oil and gas industry, with operating footprints scattering over 70 countries and regions, while boasting a customer base in excess of 300 oil & gas companies. BGP has been operating and maintaining a chain of coherent businesses encompassing a wide spectrum of specialized services in onshore/TZ/offshore seismic data acquisition, data processing and interpretation, reservoir geophysics, GME, borehole seismic, micro-seismic, multi-client surveys, unconventional seismic, software R&D, equipment manufacturing, etc.
2022-04-26 14:10