| | | |
| --- | --- | --- |
| | | |

The first 'BGP Cup' National Exploration Geophysics Software Development Contest for College Students was successfully wrapped up
---
The first 'BGP Cup', a contest for geophysical software development, that was organized for Chinese college students, was successfully wrapped up on 19 November 2022. The event was jointly initiated by BGP and China University of Petroleum and co-sponsored by SEG China, Chinese Geophysical Society and Chinese Petroleum Society.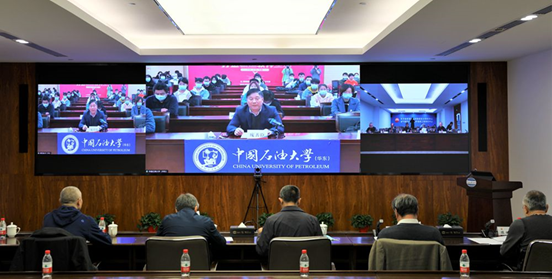 With the theme of 'Creating a Geophysical Software Ecology', this first geophysical software development contest caught many geophysicists' eyes with nearly 1000 contestants from 20 universities and colleges in China, organized into 140 teams, signed up before the event launched on June 7.
After nearly 6 months of contest, a total of 38 teams have completed and submitted their software development works and finally, a total of 10 outstanding works from 6 universities won the top spots.
As a derivative contest of the 'BGP Cup' National Exploration Geophysics Contest for College Students, this contest is aimed at developing the geophysical software with GeoEast-iEco as the platform. The two events are independent of each other as the National Exploration Geophysics Contest for College Students focuses on data processing and analysis techniques using GeoEast and the National Exploration Geophysics Software Development Contest for College Students focuses on geophysical technology innovation and software function development based on GeoEast-iEco.
---
About BGP
BGP, a worldwide leading geophysical solution provider, offers a comprehensive range of leading-edge geophysical products and quality services to the oil and gas industry, with operating footprints scattering over 70 countries and regions, while boasting a customer base in excess of 300 oil & gas companies. BGP has been operating and maintaining a chain of coherent businesses encompassing a wide spectrum of specialized services in onshore/TZ/offshore seismic data acquisition, data processing and interpretation, reservoir geophysics, GME, borehole seismic, micro-seismic, multi-client surveys, unconventional seismic, software R&D, equipment manufacturing, etc.
2022-12-01 17:00